CHAMBER BUCKS make a great GIFT!
Certificates come in $5, $10, $15, $20 and $25 denominations and can be used at over 150 local Chamber Member Businesses.  They include retail, restaurants, service and more.  TO PURCHASE CHAMBER BUCKS CALL 303-666-9555!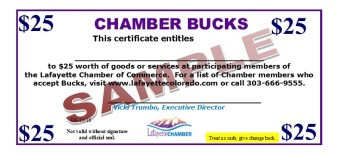 The Lafayette Chamber of Commerce is proud to be the only Chamber of Commerce in the region that provides the Chamber Bucks Program to their Chamber Members.  The service is free with their membership benefits package and signing up for participation is as easy as a phone call.Tens of thousands of dollars of Chamber Bucks are sold each year and they entice people into your business and are a great gift idea for family and friends who live in or around Lafayette.  Additionally, they help to keep our local economy more vibrant.
Chamber Bucks work just like cash.  Simply give your customer the appropriate change back and you will be reimbursed the face value of the Chamber Bucks by the Chamber.
Chamber Bucks can be ordered directly through the Lafayette Chamber and are available in denominations of $5, $10, $15, $20 and $25.
Call the Chamber @ 303-666-9555.