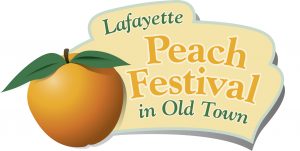 2022 Peach FOOD Vendor Application
Lafayette Peach Festival
August 20, 2022
Old Town Lafayette on Public Rd.
Sponsored by Good Samaritan Medical Center/SCL Health
9 am - 4 pm
23rd Annual Peach Festival centers around world famous all natural Palisade, Colorado peaches. Enjoy peach pies and peach cobbler.  Food vendors, crafters, antique dealers along with some of the finest artists from the Front Range and Western States will be showcased.  Children's activities in 2 locations.
Over 30,000 pounds of Certified Organic Peaches from Morton's Orchard's and Tate Orchards in Palisade, CO. will be available in 3 locations along Public Rd.  Click here for Event Map
Public Road and Cleveland
Public Road and East Chester
Public Road and Kimbark
600+ pans of fresh peach pies, pans of peach cobbler and individual servings of peach cobbler are available for sale at Festival Plaza and in front of Lafayette Florist (while supplies last).
Free face painting by Face Fiesta & balloon sculpting all day, 10:00am-3:00pm
Vitalant Bloodmobile will be holding a Blood Drive from 9:30am - 3:30pm.  Look for the Vitalant Bus on S. Public road near Kimbark Street
PHOTO/VIDEO RELEASE: By attending this event, photographs and videos of the event and individuals will be public and possibly used on future marketing for the Lafayette Chamber and its associates.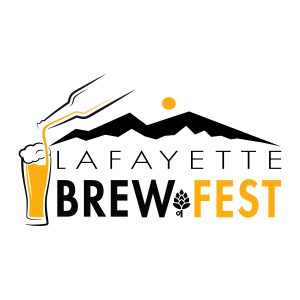 Lafayette Brew Fest
September 10, 2022
990 S. Public Rd.
Sponsored by Morrell Printing
2 pm - 6 pm
No Entrance Fee
Explore craft/micro beers one pour at a time!
WINE FOR SALE!  Restaurant, Food Booths and Music!
Discounted pre-pour tickets available starting August 1 and ending September 9 at 4:00 pm
Discounted Pour Prices:
Twenty-one - 4oz pours - $36.00 - Save $6.00
Fourteen - 4 oz pours - $24.00 - Save $4.00
Seven - 4 oz pours - $12.00 - Save $2.00
Event day pour prices: 
$2.00 for each 4 oz pour
$6.00 or 3 pour tickets for 8 oz glass of wine
Those who are drinking must purchase tasting tokens and will receive a souvenir cup.
For more information call 303-666-9555
We will feature Breweries/Cideries all within 75 miles of Lafayette.  They bring great beer and cider for you to taste.
Avery Brewing Co., Cellar West, Fritz Family Brewers, Liquid Mechanics Brewing Co., Mother Tucker Brewery,  Stem Ciders, The Post Brewing Co.,Westbound & Down Brewing, Loveland Aleworks, Upslope Brewing, Redgarden, and Howdy Beer.
Stay turned for more breweries coming soon.
Local Food Trucks
Back by popular demand, music by - Slick Machine!
21 & Over to drink (Must show ID at the door)  There are no age limits for entrance, but there are limited things for those under 21 to do at this event.  We ask that you use your discretion in bringing kids.
The Lafayette Chamber is located at 203 East Simpson St., Lafayette, CO  80026
Stop by and see us soon!
To contact the Lafayette Chamber, please email info@lafayettecolorado.com or call 303-666-9555.
Visibility…Annual Chamber Directory…Website…Social Media…Newsletter
Networking…Business@ Breakfast…Networking Mixers…Leads Groups
Marketing Opportunities…Hot Deals…Events…Job Postings…Sponsorship Opportunities
Community Events…Oatmeal Fest, Celebrate July 4th …Peach Fest…Brew Fest